Implementing Odoo HR Apps To Meet UAE Labour Law Compliance
April 21, 2022 / Haroon Juma / IT Blogs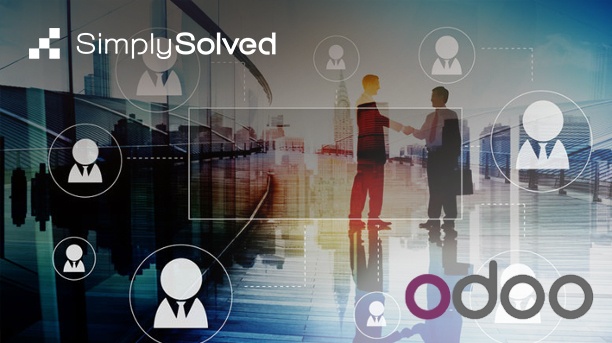 For companies in any sector seeking to manage all enterprise workflows in a fully integrated ERP, Odoo Enterprise provides an excellent option with dynamic online reporting capabilities for consideration. The simple user interface minimizes training requirements and allows companies to automate their full enterprise processes and maximise internal or customer-facing productivity.
With its support for every business workflow from sales to operations to financial reporting, with inherent flexibility to adapt Odoo to specific company requirements, it is an ideal solution as a full functionality enterprise cloud platform
Managing the internal workforce in an ERP is an important aspect when you consider labor resources to represent a critical internal resource in delivering superior performance for your company
Apart from the usual payroll, cost management, and reporting, Odoo HR provides comprehensive support from the full employee lifecycle from recruitment to employee offboarding including managing employee performance.
For any ERP, compliance with local legal employer obligations must be a key factor. The UAE has specific rules for every employer to manage under The Federal Decree-Law No. 33 of 2021 on the regulation of Labour Relations (New Labour Law) that came into effect on the 2nd of February 2022.
The Odoo framework can provide full compliance and, in this blog, we discuss what and how Odoo HR can be enhanced to meet UAE Labour Law requirements.
What Is Required Under The UAE Labor Law?
The UAE legislation prescribes several key requirements that are often unsupported in standard ERP Enterprise or other globally designed solutions. To identify these, one must consider the key actual UAE employer obligations: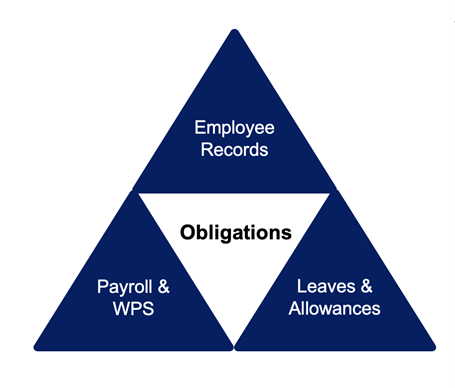 Contract & Employee Records
In compliance to Article 53 & 54 of UAE Labour Law; a file for every employee's personal, and professional information must be kept, updated, and must be available in case of an audit. These records include but are not limited to employee's name, age, gender, nationality, place of residence, profession, employment contract, payroll, attendance, etc.
Leave & Allowances
Each employee is entitled to leaves and allowances in accordance to Article 74 – 90 of UAE Labour Law, such as Official leave, Annual leaves, sick leave, maternity leave, emergency leave, etc.
Salary & Payroll
Article 55 – 64 states that an employee must be paid within two weeks after the end of each period with payslip. Payment shall be made either through cash or WPS with payroll records kept for a minimum of 10 years.
This summary is non-exhaustive but nevertheless provides an indication of the possible changes any ERP will need to fully support the UAE requirements. Standard global solutions will most likely miss a number of key requirements. For Odoo to fully meet the correct UAE support, the standard Odoo HR solution will require key updates.
What Is Required To Adapt Odoo HR To UAE Labor Law?
The good news is we have already developed these apps to help Odoo HR Enterprise comply with the UAE and KSA labour laws available on the Odoo Appstore or our SimplySolved Appstore.  These requirements place specific demands on Odoo which can be broadly aggregated into 3 areas to comply.
1. Employee Profile & Documentation
Employee records must contain more information specific to the passport, nationality, religion, dependents, local and home address, UAE visa, Emirates ID, MOL person code with the ability to notify on documentation expiry.
Document retention and payroll information (salaries, leaves, loans, end of service calculations) linked to the employee profile is also preferred to complete the full profile.These changes naturally lead to customisations with UI and workflows to manage the automation into other parts of Odoo Enterprise such as Odoo Accounting, projects, attendance, and employee self-service.
2. Contracts, Leaves & Salary Structures
Contract and payroll impacts are the second major areas following employee documentation and profiles. Contracts will need provision for employee-related salary and benefits. Employee contract modifications to set out salary structures present a particular challenge in defining company-specific allowances and other contractual provisions.
The UAE requires the definition of basic salary and separately detailed allowance parameters that show be shown on payslips and affect payroll for end of service obligations in the required manner.
Payroll affecting leave types such as unpaid or attendance/employee penalty-based deductions also need the correct approach to affect payroll. Certain deductions cannot be arbitrarily applied and could require warnings before formal deductions. Therefore to enable a predictable effect on payroll and categorization of compensation, customization of the contract functionality is required.
3. Payroll, EOS & SIF
The result from the above changes should lead to a fully auditable and correctly structured payroll and employee payslip with provisions for end of service obligations. This is an essential compliance obligation and will be necessary under any MOHRE audit.
By correctly implementing these changes in the employee salary structures to show the required necessary separation, one can set accurate salary rule calculations in payslip lines into the payroll. In this way, the final calculations can be accurately determined, verified, and issued to record in odoo accounting with minimal manual errors.
Implementing payroll changes correctly will also provide rich and insightful reporting to help your business assess payroll costs across a number of datasets such as payroll items, department, company, etc.
Finally, mainland companies require the preparation of the payroll into a SIF file or freezones for bank uploads. Our Odoo app can provide the generation of this file to minimize time and errors in manual preparation.
As an experienced UAE-based Odoo partner and business process outsourcer, our domain and technical experience support clients in maximizing their Odoo investment. Knowledge of end-to-end processes and the best possible outcomes is essential to implementing an ERP in your business with the greatest impact.
The company's workforce is a major asset and cost which can easily be absorbed into the implementation with the correct understanding and approach.  Odoo can support your complete business and adding HR to the scope could ensure you not only create more efficient and reliable payroll processes but can also ensure you meet your company's legal obligations as an employer.
About SimplySolved
As an official Odoo partner with deep insight into the GCC operating and compliance requirements, SimplySolved has created a range of apps designed to improve enterprise productivity, efficiency, and compliance.
This enables companies to build ERP solutions with a low total cost of ownership and avoid uncertainty in customisations. Our apps are specially created to enrich any Odoo UAE and KSA system with key reporting and compliance functionality specified by the respective government bodies such as GAZT, FTA, UAE MOL & KSA MOL.

Contact us today for more information!
About SimplySolved
At SimplySolved, we save your time, resources, and costs. Whether you need help with Outsourced Accounting, Finance, Tax, Employee Management & Payroll, or IT. we have the expertise and solutions to help.
Subscribe to mailing list
Partner With SimplySolved
Serving over 200+ clients we know the challenges your business faces operating cost effective, compliant and efficient back office operations in Finance, Tax, Human Resources Management, IT and Marketing.
As an FTA Accredited Tax Agency with ISO 9001 Quality & 27001 Information Management Certification, we offer a quality-based approach to our services supported by dedicated team of certified professionals.
We support our clients with defined processes, platforms and expertise to deliver advisory, project and outsourced services in Accounting, Tax, Auditing, HRM, IT & Marketing. Our offerings are specially designed to meet the UAE Regulations to put you in control of your information, comply to the regulations and help you make better business decisions.
Copyright © 2023 | SimplySolved | All Rights Reserved.