Shopify Integration To An ERP – Why This Makes A Difference
April 12, 2022 / Haroon Juma / Software Blogs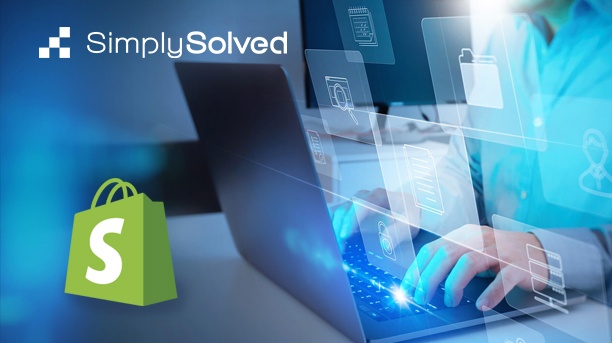 For many companies seeking an online presence, Shopify provides an excellent option to create an attractive online and get to market quickly. The use of templates and minimal customisations enable every store to present its own user experience and branding. Underpinning this is an ecosystem of features and plug-ins to reduce the cost of setting up the store to quickly monetise the online presence.  This makes Shopify one of the most popular e-tailor platforms on the market.
In reality, every store is a journey of continuous development. Once the store is live and volumes begin to grow, there comes a point where success in a competitive market is dependent on many other factors. These include marketing a variety of available product lines, stock management, and return controls, pricing, logistics, responding to market trends, and speed of service among a few.
As volumes grow, small errors can have larger consequences on business profitability and brand. Hence, operational controls, efficiency, performance management, reporting, and agility are prerequisites in setting the foundations for profitable growth.
Operating with spreadsheets to manage stock ordering and returns will no longer be effective. Your primary focus should turn to make the online channel more scalable, profitable, and efficient. It is at this point Shopify can be quickly and cost-effectively integrated into a more functional ERP for more efficient internal processes.
In this blog, we discuss why an ERP such as Odoo or Zoho connected to your Shopify store makes sound business sense.
The Benefits Of Shopify Integration To Your ERP
Efficiency Gains: Through Shopify Integration, tasks can be automated for more efficient operations.

ERP systems

are designed to fully control all internal processes from sales, purchasing to financial reporting and all processes in between.

Connecting and automating all business and data workflows brings superior control and efficiency

.
Competitive Strength: The greater the competition in your market, the greater the need to operate at the lowest cost with the highest levels of internal efficiency. Technology will play a critical role to manage growth, deliver efficiency and support any digital transformation to manage your market-facing processes. This efficiency will help to control costs and offer products at superior value and lead times to the competition.
Customer Management: The aim of every business is to provide its customers with quick and efficient service. Through Shopify Integration to your ERP, you can take advantage of real-time integration, while also keeping in close contact with your customers and vendors. Automating tasks allows you to collect customer data, make product collections, and ship products faster.
Effective and Efficient Inventory Management: Inventory plays a vital role in any company but is especially important in e-commerce companies. Shopify Integration with your ERP software enables you to manage inventory more efficiently to manage product pricing, promotions, and stock availability up to date. Furthermore, order fulfillment is faster with an ERP system, so orders are not accumulated, and customers can receive goods faster.
Reduced time and cost: It becomes increasingly difficult to effectively manage your operations with a marginal cost of operations and control your resources as your business grows. Integrating online with internal operations will help to reduce costs and time. Warehousing, logistics, and shipping can be integrated into one flow and reported on manage performance and report to customers.
Enhance transparency and reporting: Connecting dataflows eliminates entering the same data in different systems or excel. This will reduce the chance of duplicate data, and orders are fulfilled faster and without any errors. The seamless flow of data from your e-commerce platform into your ERP will allow for advanced reporting hence allowing you to manage your time and cost as it automates the management process.
Accurate accounting and invoicing: Shopify integration with your ERP software allows you to coordinate your accounting and invoicing, two essential financial functions for businesses. The business process would include an order being placed on the e-commerce platform being pushed into the ERP where the inventory is updated, invoice and delivery notes are generated automatically. This means that financial data is populated in the accounting module with little or no human interference which ultimately results in accurate financial reporting.
The key to the success of this project will be to consider it a process-centric exercise and not an IT project. Therefore knowledge of end-to-end processes and the best possible outcomes are essential to implement the change in the business with the greatest impact. By driving toward the greatest level of data and process integration, you will also gain greater visibility and transparency to create better performance management reports that will help provide the facts in developing the online channel to more effective results.
Integration between these two platforms or extending an ERP online is a business-changing decision. This can provide immense competitive and operational benefits. You must place strategic weight on its impact sooner rather than later to give your business venture every chance of success and scale with minimal cost.
About SimplySolved
Ensuring your Shopify integration with the right ERP requires not only the technical skills but a deep accounting and workflow knowledge to set appropriate policies and dataflows to fully automate the interactions between these applications. In this way availing of these integrations will minimize the time associated with entering data, giving you more time & resources to invest in growing your business.
At SimplySolved, we deliver the domain and technical skills to deliver integrations in a seamless manner preventing any gaps. We deliver solutions specific to your E-commerce and business workflow needs to avoid the complications that come along with the process. Through our ISO 9001 & 27001 accredited approach, we possess the domain and IT expertise to advise, plan and deliver a consistent outcome that benefits your company.

Contact us today for more information!
About SimplySolved
At SimplySolved, we save your time, resources, and costs. Whether you need help with Outsourced Accounting, Finance, Tax, Employee Management & Payroll, or IT. we have the expertise and solutions to help.
Subscribe to mailing list
Partner With SimplySolved
Serving over 200+ clients we know the challenges your business faces operating cost effective, compliant and efficient back office operations in Finance, Tax, Human Resources Management, IT and Marketing.
As an FTA Accredited Tax Agency with ISO 9001 Quality & 27001 Information Management Certification, we offer a quality-based approach to our services supported by dedicated team of certified professionals.
We support our clients with defined processes, platforms and expertise to deliver advisory, project and outsourced services in Accounting, Tax, Auditing, HRM, IT & Marketing. Our offerings are specially designed to meet the UAE Regulations to put you in control of your information, comply to the regulations and help you make better business decisions.
Copyright © 2023 | SimplySolved | All Rights Reserved.